Your Co-op & Octopus Energy Powers Up for Growth Joint Venture Rebrand
Published date: May 2021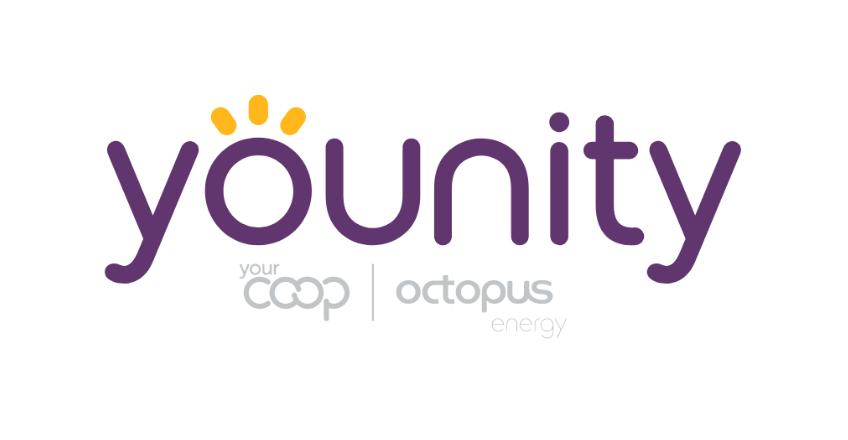 Co-op Community Energy, a joint venture between Octopus Energy and Your Co-op Energy, today unveiled a new identity as it embarks on its next stage of growth.
The business has been rebranded as
Younity
(pronounced 'unity') to reflect its partnerships with community-owned energy projects across England, Scotland and Wales.
Since its inception in October 2019, Younity has grown quickly to become the UK's largest buyer of community-generated energy.
It currently has power purchase agreements with 100 community-owned projects. Together these generate enough electricity through solar, hydro and wind power to supply 45,000 domestic customers a year on Your Co-op Energy's Community Power Tariff.
Tom Hoines, managing director of Younity, said: "Our new name and brand identity marks an exciting step in our evolution as we continue to innovate through the delivery of ground-breaking projects and facilitate the growth of community energy across the country.
"We are seeing a big shift towards sustainability. Demand for green and renewable tariffs is on the rise.
"We wanted people to realise that we have a standalone identity whose core mission is to push forward community energy and support projects by adding value and providing the technical knowhow to help them succeed.
"Working with a range of innovation partners, we are developing new business models for generating and supplying community energy to ensure that perceptions change and that community energy becomes an integral part of the way the UK energy system operates.
Community-owned renewable generators are run and owned by and for the benefit of communities in which they operate. The money ploughed into these schemes by equity investors is used to build the power generating assets, with the promise of returns over the long-term.
Surplus profits are put towards supporting community initiatives, such as helping people in fuel poverty, providing sustainability advice to local residents and education and training for young people.
Younity also has a community energy fund, which is used to support a variety of local initiatives. Younity donates money for every customer who switches to Your Co-op Energy's Community Power Tariff. It has distributed £15,000 over the past eight months.